by Barb Lentz.
The five movies Bob provided for me from which to choose were these:
The Dam Busters  (1955)
House Calls  (1978)
Laugh, Clown, Laugh  (1928)
Rosemary's Baby  (1968)
The Westerner  (1940)
I chose The Westerner because I believe I've only seen one other Gary Cooper western, High Noon, and we haven't yet watched a western (My Little Chickadee is more a comedy than a western).  I've heard of Judge Roy Bean, but really had no idea of his history, although Bob had told me that Walter Brennan won an Oscar for portraying him.  I'm not a big western fan but this one had the appearance of something charming, unusual and rather prestigious.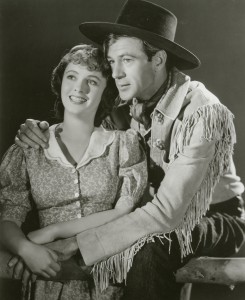 It doesn't begin that way.  Judge Roy Bean (Walter Brennan) holds court in a saloon and hangs an unfortunate homesteader who inadvertently shot a steer in a gunfight he didn't start, while trying to defend himself. Another rider is brought in, accused of stealing a horse, and a similar result is expected.  But Cole Harden (Gary Cooper) sees a way out, if he plays his cards right. The judge has a fixation on actress Lily Langtry, so Harden tells the judge he knows the Jersey Lily and even has a lock of her hair.  It's enough to keep him alive, as long as he agrees to give that keepsake to the judge.
Harden learns that he has stumbled into a struggle between homesteading families and the cattlemen who want to keep the range open.  He tries to keep the peace between the judge, who is clearly on the cattlemen's side, and the angry farmers.  He also falls in love with Jane Ellen Mathews (Doris Davenport), the most headstrong of the farmers.  Just as everything seems to be working out, the judge makes his move and burns out the homesteaders, setting up a showdown with Cole Harden.  Interestingly, this takes place at Fort Davis, where the judge travels to see Lily Langtry — in an auditorium all by himself.  Boy is he shocked when the curtain rises and it's Cole Harden standing on stage, ready to arrest or kill him.
The Westerner is unusual, at least compared to the westerns I have seen.  It focuses on small, intimate moments that define character and move the story forward in place of gunfights or fistfights or cattle stampedes.  The usual plotting takes a back seat to characterization, and its humor is sly rather than broad.  The action sequence (the fire), when it comes, is surprising rather than expected.  The final shootout is interrupted by the need to reload (how often does that happen in westerns?) and ends with a compassionate act as Cole Harden carries the judge to meet the woman of his dreams before he dies.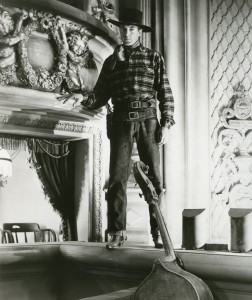 My top five moments of the movie are:
1.  When Harden used his intelligence to stay alive in Judge Bean's court.  He was able to observe how the judge admired Lily Langtry and used that knowledge to worm his way out of a noose, long enough for the real horse thief to be caught.
2.  When, after a long night of drinking, Harden awakens in a small bed with Judge Bean's arm around him.  It is the funniest scene in the movie, and it evolves into one of respect when Bean tries to stop him from leaving, only to find that Harden has sneaked his gun away.
3.  When Harden finally fulfills his promise to the judge and gives him the lock of hair he has collected (from the head of Jane Ellen Mathews, not Lily Langtry).  The scene is milked for as long as possible; you can sense the judge getting twitchy until it is given to him.
4.  When the homesteaders' crops and homes are burnt to the ground.  The fire is so unexpected because Judge Bean agreed to round up all the loose cattle, and did, and the homesteaders are celebrating.  Judge Bean's atrocity leaves no doubt as to the inevitability of a showdown between Harden and the judge, especially after Jane Ellen's father is killed trying to defend his home and daughter.
5.  When the judge travels to Fort Davis to see Lily Langtry.  He enters the theater alone (he has the only ticket; he has burnt the others) and sits where he wants to sit, ignoring the usher.  He wants Lily to sing only to him — imagine his surprise when the curtain rises to reveal Cole Harden, now a deputy ready to arrest him.  This, of course, leads to a nifty shootout in the theater, complete with a pause so that both men can reload, before the judge is mortally wounded.  And then, because he still respects his adversary, Harden carries Judge Roy Bean backstage so he can meet the one and only Lily Langtry (Lilian Bond).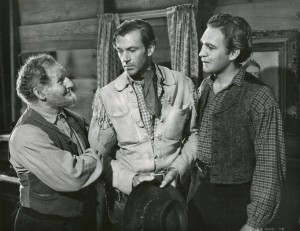 Beneath the comic tone of the story and delightful byplay between the two men there is a very dramatic and convincing conflict between the homesteaders and the cattlemen. Caught in the middle, Harden has seen both sides and describes how other locales have suffered when such conflict has led to bloodshed. Judge Bean seems to listen and agree, at least until the fire occurs. When Judge Bean's men burn out the farms the homesteaders leave to find greener pastures. Bean has won; the ranges will stay open for the cattle.  No one will stand up against Roy Bean's tyranny — except for Cole Harden.  The film demonstrates how one man can make a difference, particularly when he stands up on the side of right against someone bent on the oppression of others.  This may only happen in the movies, but it is something to see when it is done well.
Is The Westerner a classic?  I'd say yes.  Walter Brennan steals the show as Judge Roy Bean, creating a truly memorable character.  He won his third Oscar within five years for this role, and it's easy to see why.  Gary Cooper is immensely likable and stands tall when he needs to, ensuring that justice is served.  The story is good vs. evil throughout, although its scale increases as the stakes rise.  Even at its most dramatic, The Westerner retains its focus on the two unlikely friends, and their respect for each other make this story a dusty classic.
BRL  14 July 2014.
The Westerner  (September 20, 1940)  Samuel Goldwyn / United Artists.
Directed by William Wyler.  Produced by Samuel Goldwyn.
Screenplay by Jo Swerling and Niven Busch, from the story by Stuart N. Lake.
Uncredited writers:  W. R. Burnett; Lillian Hellman; Oliver La Farge.
Principal Cast (character, performer):
Cole Harden                                             Gary Cooper
Judge Roy Bean                                        Walter Brennan
Jane Ellen Mathews                                   Doris Davenport
Caliphet Mathews                                      Fred Stone
Wade Harper                                            Forrest Tucker
Chickenfoot                                              Paul Hurst
Southeast                                                 Chill Wills
Lily Langtry                                              Lilian Bond
Hod Johnson                                             Dana Andrews
Mort Borrow                                             Charles Halton
Shad Wilkins                                             Trevor Bardette
King Evans                                                Tom Tyler
The Stranger                                             Lucien Littlefield
100 minutes.  B&W.  Not Rated.