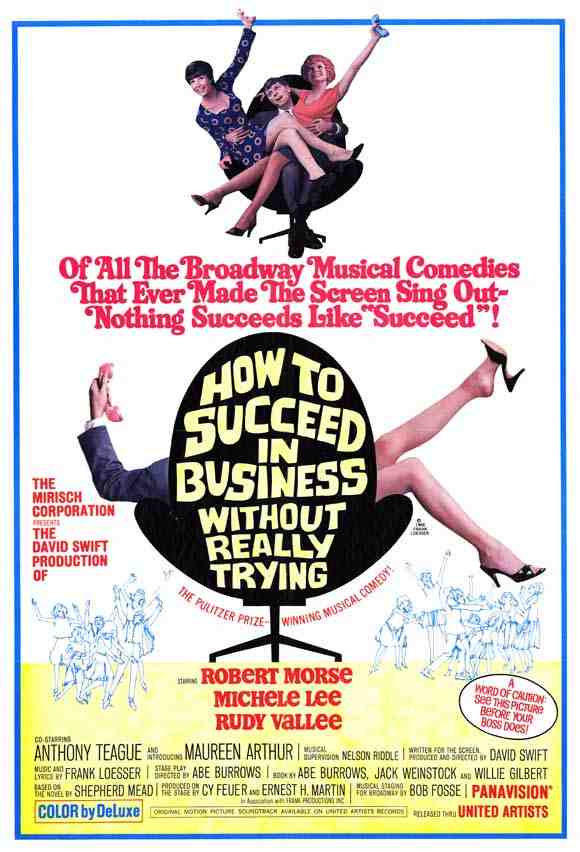 Musicals are an odd style of film, considering that people burst into song and dance around in what are otherwise normal situations. But when musicals are done well, and even sometimes when they aren't, the results can be more entertaining than any other type of cinema.  Music has that power. For my movie of the month for August, I have chosen my second favorite musical of the 1960s, How to Succeed in Business Without Really Trying (1967). I've just seen it again, this time with my mother-in-law, Ruth Hahn, and enjoyed it just as much as I first did thirty years ago. Frank Loesser's score is simply sensational, Bob Fosse's unusual choreography is both goofy and inventive, and David Swift's direction is sharp.  The movie basically follows the path of the Pulitzer-winning play, although it cuts a few musical numbers; the film runs only 121 minutes, which is actually rather short for a film musical of that era.  And while almost all of the action takes place at the downtown New York City headquarters of the World Wide Wicket Corporation, (what the heck is a wicket?) the film opens the milieu a little bit with scenes on the city streets, at two apartments, and on the roof of the Wicket headquarters building.  Oh yes, at the White House, too.
It all begins when window washer J. Pierrepont Finch (Robert Morse, reprising his 1961 Tony-award winning Broadway role) picks up a paperback book called How to Succeed in Business and a narrator tells him how to work his way up the corporate ladder.  Quickly.  Within two days Finch has befriended his way out of the mailroom into a junior executive position.  But he doesn't stop there.  He finagles and cajoles and lies his way higher and higher, all without doing any real work.  That's part of the pointed satire, of course; the less work that Finch — or anybody — does, the more power and respect he / they seem to collect.  Big business doesn't work that way any more (does it?) but I believe such corporate bloat was fairly common back in the day.  It sure makes for a nice fat satirical target.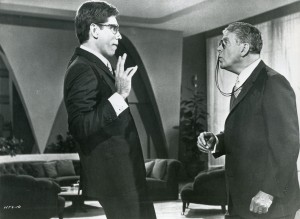 Head of the company is J. B. Biggley (Rudy Vallee, also reprising his role from the stage).  Other than his company's profitability he has four other interests: golf, knitting, his alma mater (Grand Old Ivy) and a certain Miss Hedy LaRue (Maureen Arthur), whom he parks in the secretarial pool.  As Finch is trying to get ahead he ignores golf and passes off Hedy LaRue onto another executive — who quickly finds himself working in Venezuela — to focus on knitting (to show he has the same type of temperament) and college association.  A rousing rendition of "Grand Old Ivy" ends with "rip, rip, rip the Chipmunk off the field!" and plants Finch in Biggley's mind as someone on his side. Now, such chicanery would be appalling in real life, but as entertainment it is sharp and funny.  Supposedly the play is even more pointed, with Finch becoming a real heel in search of success, but David Swift and his filmmaking team ease up a bit on the callousness of the material to make Finch more lovable.
Besides those hated Chipmunks, Mr. Biggley has another problem at hand: his oily nephew Bud Frump (Anthony "Scooter" Teague).  Frump, who seems rather talentless and arrogant, is in the mailroom when Finch arrives, and becomes his main rival as Finch quickly climbs the corporate ladder.  Frump constantly complains to his mother that someone else is getting his promotions.  Frump sets traps for Finch whenever he can, although they usually backfire in his face.  But when Finch assumes the title of Vice President of Advertising, Bud Frump finally gains the upper hand.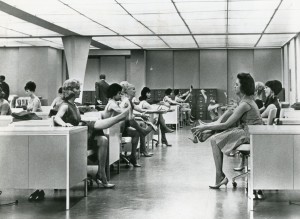 The film doesn't have a lot to say, specifically, regarding big business, until it comes to Advertising.  Finch wants the advertising job, and even requests it, until the narrator of the book (Carl Princi) reminds him that the person in that corner of the corporation must actually think and deliver results in order to keep the job.  Wicket advertising is a no-win proposition because the public is so fickle, and a successful campaign would undoubtedly lead to further expectations of success, which would then necessarily doom any executive in the position to failure.  Finch tries to develop a campaign but cannot do it, finally resorting to the book's advice: steal one. This, of course, is where Bud Frump finally gets the upper hand.  Nevertheless, Finch sells it and persuades the bigwigs to go along, until something he could not expect derails the entire project and leads to corporate catastrophe.  Just as all hope seems lost for our protagonist, he discovers an affinity with the Chairman of the Board (Sammy Smith).  This leads to the final number, the great "Brotherhood of Man," and a pat resolution that puts J. Pierrepont Finch right where he belongs.
It wouldn't be a musical without romance, and that is provided by pretty Rosemary Pilkington (Michele Lee, in her film debut), who falls for Finch the first time she sees him.  She actually thinks he needs protecting, and sets about doing so by asking some of the other secretaries to watch out for him.  When Finch is at his lowest point, having just been fired, it is Rosemary who sings the film's finest ballad, "I Believe in You."  (In the play, Rosemary had two different songs, but both were cut for the film, so her character was given the best song to sing).  Rosemary's view of Finch is naïve but sweet, especially when she confronts him about dishonesty after the climactic company catastrophe.  But true love prevails, and she returns.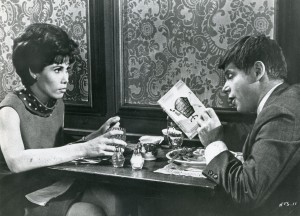 Unlike other musicals of the same year which counted on big names with limited singing ability to lure audiences (Camelot with Richard Harris, Franco Nero and Vanessa Redgrave; Doctor Dolittle with Rex Harrison and Samantha Eggar), this movie opted for fresh, unfamiliar faces with actual vocal talent, several of whom made the jump from the Broadway show. Morse nearly became a star, but his manic, gap-toothed personality proved a hard sell for movie audiences. This was his first (and only) movie musical. Within two years — even after costarring in the hit comedy A Guide for the Married Man, also in 1967 — Morse was essentially out of the movies and considered a television and stage actor, which was where he began.  Morse would win a second Tony award in 1990 as Truman Capote and has since reclaimed some of his fame on the TV series "Mad Men."
Rudy Vallee was in the twilight of his career when Broadway came calling.  He stayed with various productions of the show for years before the film was made, then found appearances on television and the occasional movie until his death in 1986.  Michele Lee's movie career faded following The Love Bug and The Comic in the late 1960s, but she found a home on television, most notably in "Knot's Landing."  Sammy Smith, who plays both mailroom boss Twimble and Chairman of the Board Wally Womper, made occasional movies into the 1980s, but this was his shining hour on celluloid. Viewers may also recognize Anthony "Scooter" Teague, Maureen Arthur, Ruth Kobart, Robert Q. Lewis, Murray Matheson and Paul Hartman in various roles.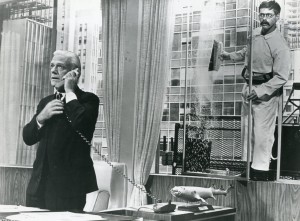 The show works — and has endured as a perennial stage favorite — due to its blend of comedy and music. Its comedy is sharp and smart, and in the film's case is put across by an enthusiastic cast, led by the impish, irrepressible Robert Morse.  It has peppy songs by Frank Loesser that perfectly fit its subject and setting. It has romance, but never lets the romance get in the way of the story, or the comedy.  It is beautifully balanced — although it is hardly traditional.  The climactic anthem, "Brotherhood of Man," features only one woman — soprano Ruth Kobart (Mr. Biggley's secretary) accompanying the male-dominated Board of Directors.  The romantic couple, Finch and Rosemary, has no duet.  One song, "Been a Long Day," establishes their attraction, but it is their colleague Smitty (Kay Reynolds) who moderates their blossoming feelings.  Rosemary sings "I Believe in You" to Finch, and when Finch sings "Rosemary," it is immediately after he is kissed by Hedy LaRue. Two of the main songs are sung by just two men.  Finch and Twimble (Sammy Smith) croon "The Company Way," while it is Finch and Biggley who bring "Grand Old Ivy" to rousing life.
Yet part of the film's appeal is the freshness with which these songs are staged.  The reprise of "I Believe in You" is mixed with "Gotta Stop That Man" and staged in the executive men's washroom as Finch prepares for his big presentation to the Board. "A Secretary is Not a Toy" explains the danger of office romance in hilarious terms, with jaunty, unusual and even weird choreography courtesy of Bob Fosse just two years before he directed his first musical, Sweet Charity.  Remember, "a pad is to write in, and not spend the night in."  This song — and the complete lack of female executives — leads some people to accuse the show of sexism, but the show is simply reflecting the tenor of the time.  It also serves to pit the men against the women on levels personal and professional, which is always entertaining.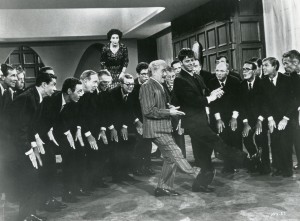 Finch somehow turns his imminent firing around at the climax, leading into the rousing "Brotherhood of Man," which is about as close to a religious experience these selfish businessmen will ever have.  I also love "A Secretary is Not a Toy" and "The Company Way," but my favorite song remains "I Believe in You," especially when Finch croons it to himself to boost his confidence in the executive washroom as the other executives are frozen in place. Then they unfreeze and sing "Gotta Stop That Man" as counterpoint to Finch's pep talk.  The personal perils, battles and rivalries of business have rarely been staged so adroitly as in this sequence.  Especially because these men have been Finch's acquaintances (he doesn't really have friends) and now they are so threatened by his meteoric advancement that they band together against him.  It's natural, believable and very inventive.
West Side Story is a masterpiece (despite the miscasting of its leads) and has always been my favorite 1960s musical.  There are others of the era with better music, like My Fair Lady, Oliver!, The Sound of Music, Mary Poppins and even Camelot.  But How to Succeed in Business Without Really Trying has the raw energy, eclectic wit and catchy tunes that appeal to my sensibilities more than those others.  Only The Music Man, from that era, rivals it in charm and spunkiness.  I love Robert Morse's manic exuberance; J. Pierrepont Finch was the role he was born to play, on stage and on film.  And consider this: even with a couple of songs cut in the translation, this film may represent the closest film version of a big Broadway musical to the actual stage experience; much of the top cast remains the same, and it is staged theatrically as well as cinematically.
Regardless, this movie has always been a favorite of mine, and I heartily endorse it and encourage you to see it, or revisit it.  Or catch it on stage somewhere, because the stage version is just as good, maybe even better.  Revivals on Broadway have featured Matthew Broderick and Daniel Radcliffe, while other performers such as Joe Jonas, John Stamos and even Ralph Macchio have taken turns as Finch.  But for me it will always be Robert Morse's signature role.  ✰ ✰ ✰ 1/2.  August 2014.