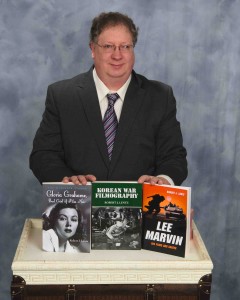 The Korean experience changed the way Americans viewed war.  The lack of a clear-cut victory inspired filmmakers to try to make sense of fighting another country's civil war and risking American lives for an unpopular cause.  In many ways the Korean War was a bridge between the very understandable and patriotic sacrifice necessary in World War II and the muddy, senseless bloodshed in Vietnam.
Korean War Filmography details more than ninety English-language films.  Each entry includes complete cast and credit listings, a plot synopsis, evaluation, review snippets, and notice of video availability.  The book places each film in historical context, assesses the essential truthfulness of each film, evaluates its entertainment value, and discusses how — and why — Korean War films differ from other Hollywood war genres.  Appendices list the films by chronology; production company and studio; level of historical accuracy; and subject and theme.  Additional appendices list films with incidental references to the Korean War; documentaries; and South Korean films about the war.  Photographs, a bibliography and an index are included.
This book is the most comprehensive reference regarding Korean War movies yet written.  It includes not only the well-known titles (MASH, Pork Chop Hill, The Steel Helmet, The Manchurian Candidate, The Bridges at Toko-Ri, etc.) but those that have languished in obscurity for decades (Combat Squad, Iron Angel, Sky Commando, Mr. Walkie Talkie, etc.).  More modern takes on the war are covered, too, such as Field of Honor, Inchon, For the Boys and Truman.
Various appendices contribute to the book's usefulness.  Each film is "rated" low, medium or high depending on its Historical Accuracy level, which should be self-explanatory, and its Patriotic Propaganda level, which measures each film's stance against the spread of communism, and how much support is generates for America's military presence in the Korean theatre.  In addition, for each entry there is an "elements" tag which indicates what specific elements it encompasses, such as Marine Corps, Winter Fighting, Prisoners of War, Courts-Martial, Espionage, etc. Thus, films can be found in the Subject and Theme appendix by those specific elements.
Darcy Paquet of the Institute of Foreign Language Studies of Korea University in Seoul has contributed a detailed listing of South Korean movies that deal with the war.  This feature introduces western audiences to the most prominent movies made from the South Korean perspective, which, of course, was quite different than our own.  Darcy's website is www.koreanfilm.org.
The artwork and photographs included also strengthen the book's appeal.  Most of the discussed movies are represented by at least one photo and one poster or ad image that reveals how the film was advertised to the public.  The best-known films are even better represented in terms of illustration.
Korean War Filmography remains the most comprehensive volume regarding the history and culture of Korean War movies.  It is the volume that I am most proud of writing during my brief career.  Because I have since found other movies that should have been included (but which I simply did not know about at the time) I am looking forward to someday updating this work and making it even more complete.